The Reedy River Water Quality Group (RRWQG) was the featured  topic at the June 8, 2016 Greenville Green Drinks gathering. Green Drinks International is a grassroots movement that connects like-minded individuals interested in greening their lives and community. They welcome absolutely anyone who is interested in making good environmental choices, whether  you're a back-to-the-earth homesteader, an eco-friendly business, or you have only recently decided to recycle your garbage.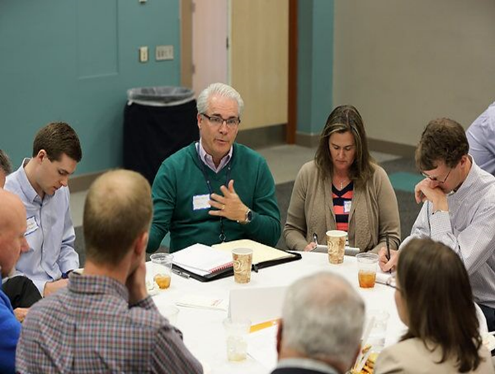 Sandra Ralston, a member of the RRWQG facilitation team, led a discussion about the creation of the group, its partners and committees, and its mission. Ralston also reported on the progress toward the group's ultimate goal:  to preserve, protect and improve water quality in Boyd's Millpond by complying with nutrient regulatory requirements.
Many attendees were not familiar with the 5(r) concept, which is part of the Clean Water Act regulatory code. Ralston provided regulatory background and spoke about how the RRWQG is taking groundbreaking action using 5(r) which allows stakeholders to create the water quality improvement plan for the watershed.
Ralston's presentation underscored how important stakeholder engagement and consensus is to the success of the mission. "The move from top-down regulatory mandate to bottom-up stakeholder empowerment relies on the ability of those with skin in the game to create groups that can work through conflict, overcome individual agendas, and achieve consensus to support a plan," Ralston told the Green Drinks crowd. "Team-building really is the key to success."
Discussion was lively and questions were asked throughout the presentation as many members were not familiar with the project, the regulatory context,  or best management practices to limit stormwater pollution.
Ralston concluded the Green Drinks presentation by listing the factors for continuing success of the stakeholder engagement that drives the project:
Building group trust
Creating an environment in which constructive criticism can be safely voiced
A framework and activity focus that progressively creates commitment to the group goal
Establishing clear metrics of success
A consensus goal that drives the project work
Communication
Transparency
Regulatory support
For more information on Reedy River Water Quality Group, best practices to limit stormwater pollution, or Green Drinks Greenville, contact Kirsten Robertson at 920-6404.